Winco ZNG 12 (CPU)
products > electronically-controlled dispensing units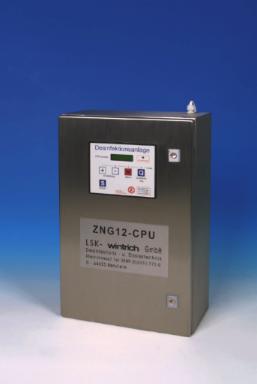 Winco ZNG 12 (CPU) micro-processor controlled dispensing equipment for the production of ready-to-use disinfectant solutions from concentrate and tap water, for central supply systems, bed pan rinses, hoses and spray lances.

Application areas:
Hospitals, care homes for the elderly, sanatoria, swimming pools, wash rooms, commercial kitchens and many others.

TÜV (Technical control board) certificate: E 801 014 263 4001

BAM DDE 20


Safeties:

Your Winco ZNG 12 (CPU) disinfectant mixing and dispensing includes the following safety features:
- Pre-warning when the concentrate (disinfecting or cleaning concentrate) levels close to empty
- "Empty" signal and automatic cut-out when insufficient concentrate
- Automatic cut-out when water supply is insufficient

Maintenance:
In accordance with German federal health and safety guidelines (BGA/BAM) covering disinfectant mixing and
dispensing equipment all such devices should be subject to routine maintenance at least annually. We recommend
that users take out a service and maintenance contract.

Checking the concentration level
The concentration level of the solution is shown on the LED indicator.

Operation
- open the access door on the machine
- screw the container of disinfectant concentrate into place
- insert the suction tube into the container of concentrate
- close the access door on the machine
- set the control to the required dispensing rate
- your Winco ZNG 12 (CPU) is now ready to use

Concentrates
The solution can be adjusted to suit most commercially available water miscible disinfectant/cleaning concentrates.

Mixing rate:
Electronically adjustable from 0.25 % - 3.0 %. Further concentration levels as requested.

D010275

Winco dispensing equipment for the production of ready-to-use disinfectant solutions, Winco
ZNG 12 (CPU) series

Built in the line with dimensional drawings M 326, isolated from the water supply in
accordance with DIN 1988 Part 4 using a system isolator, alternatively an (DVGW) approved
back-pressure pipe isolator, flow rate 12 litres per minute, output pressure to 6.0 bar, min.
flow pressure 2.0 bar, adjustable concentration level between 0.25% and 3.0%.

Principal components

1. Mains water supply isolated as a system isolator alternatively pipe isolator in accordance
with DIN 1988 Part 4

1.1 R ½" constant pressure regulator

2. Full electronically impulse counter to control the metering pump

3. Metering unit consisting or reciprocating piston pump with chemically resistant parts,
24V/50Hz.

4. Micro-processor control with 5 V safety voltages, power section and control unit
separately in plastic housing

4.1 Control box with precision controls and stepped dial switch for reading and setting the
desired concentration level

5. PVC plastic suction tube, overall length 365 mm, Æ 30 mm diameter with probe for
measuring the level of concentrate
remaining in the original container (5 litres)

6. Stainless steel housing (special version on request), material no 1.4301, or similar
Dimensions Winco ZNG 12 (CPU):
H = 600 mm, B = 380 mm, W = 210 mm

7. Fluid connectors:
water inlet R ½"
solution outlet R ½"
drainage pipe isolator
alternatively system isolator
(- 32 mm, PVC) R 1"

8. Electrical connection 230 V, 50 Hz, installed safety fuse 6.0 A

9. Settings and operating conditions are shown by the LCD-display. Faults are additionally
signalised by a red LED
The warning lights are mounted in the front access panel

D010260
Accessories if requested (not included in our delivery)
In-wall mounting model with a movable mounting frame of stainless-steel, L-beam,
dimensions as per sheet M 440.00

D010395

1 remote signalling to ZLT (extra equipment)


1 Operator instruction manual

1 first filling: barrel 5 l content
1 second filling: barrel 5 l content

Delivery terms: ex works, excl. packing
Delivery period: 2 weeks approx.
Payment: 14 days 2 % discount, 30 days net

D010231

Optionally as ZNG 12 CPU GD with Swivelling outlet pipe, chrome-plated brass, R ½" (or a
special model in V4 A)

D900010

Installation and operator training is carried out by LSK-Wintrich staff. The guarantee period is
controlled by legal regulations. Equipment is supplied in accordance with the general terms
and conditions of LSK-Wintrich. Assembly, connection and filling are not included in our
contract of sale. Maintenance contract as per BAM guideline from 1978; price per
maintenance if requested.

Note:
Please install into the extraction line a sample outlet valve!