Winco ZEL-12 (CPU)
products > electronically-controlled dispensing units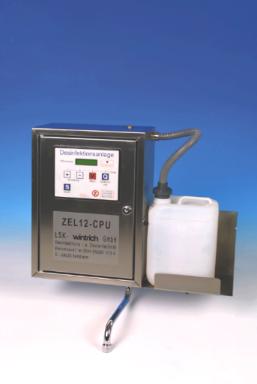 Micro-processor controlled Winco ZEL 12 (CPU) for the automatic production of ready-to-use disinfectant and cleaning solutions using disinfectant concentrate and tap water (bucket filling).

Application areas:
hospitals, clinics, laundries, commercial kitchens, laboratories, industrial installations and many other applications.

TÜV certification: E 801 014 263 4001

SERCO VDE directives

BAM DDE 9


Safeties
The ZEL 12 (CPU) mixing and dispensing equipment includes the following safety features:

. Pre-warning when the concentrate (disinfectant or cleaning concentrate) level is close to empty
. "Empty" signal and automatic shut-off if concentrate is insufficient
. Automatic shut-off if water supply is insufficient or in case of a pump fault

Checking the volume to be dispensed
The dispense volume level is displayed visually.

Operation
. Open the disinfectant concentrate container
. Put the container in the concentrate container housing
. Insert the suction tube into the concentrate container
. Set the control to the required dispensing rate using the LCD indicator
. Your Winco ZEL 12 (CPU) is now ready to use

D010270

Winco metering unit for automatic production of ready-to-use disinfectant and cleaning
solution
Output 12 l/min, output pressure to 6.0 bar, flow pressure min. 2.0 bar, adjustable
concentration level from 0.25 - 3.0% (other concentration levels are available on request).

Principal components

1. 1.4301 stainless steel case, connectors as per provided dimension sheet

1.1 Housing for 5, 10 or 12.5 litre bottle

2. All-electronic impulse counter for proportional calculation of the water flow

3. Metering unit consisting of a reciprocating piston pump with disinfectant solution
resistant parts, 24 V, 50 Hz

4. All-electronic impulse emitter to monitor the dispensing pump operation

5. Micro-processor control, 5 V operation, separate input and function components, fully
encapsulated plastic housing

5.1 All electrical equipment within the housing is supplied at 24 V

5.2 Menu-led LC-display built into the access panel, for adjustment and monitoring of the
desired disinfectant or cleaning fluid concentration level

5.3 Failsafe devices:

Automatic cut off of the equipment in the case of:
. Insufficient water supply
. Insufficient concentrate supply

5.4 Red LED indicators warn of:

. Low concentrate level (warning) about 10 %
. No concentrate (empty signal)
. Insufficient water supply
. Pump fault
. No flow rate
Additional plain text warning on LCD

6. Plastic suction tube (PVC), including probe to check level of concentrate in container as
delivered; total length variable for 5 - 6 litres canister (standard), on customer request
for 10 - 12.5 litres

6.1 Mixing Vessel in which the concentrate container and the water are mixed together.
Pipe isolation certified by DVGW in the line with DIN 1988, Part 5 EN1717.

7. Swivelling outlet pipe, chrome-plated brass, R ½" (or a special model in V4 A)

8. Dimension devices:

. Including concentrate housing:
L x W x H = 532 x 175 x 444 mm
. Without concentrate housing:
L x W x H = 320 x 175 x 444 mm

Weight: approx. 14 kg dry

9. Cold water connection R ½"
Net: 230 V, 50 Hz, 6 A
10. Power: 110 Watt, 230 V, 50 Hz, 6 A

D010395

Remote signalling to ZLT (special equipment)

First filling: at 1 x 5 litres
Second filling: at 1 x 5 litres

Payment: ex work, packing excluded
Delivery period: approx. 2 weeks

D900010

Installation and operator training is carried out by LSK-Wintrich staff. The guarantee period is
controlled by legal regulations. Equipment is supplied in accordance with the general terms
and conditions of LSK-Wintrich. Assembly, connection and filling are not included in our
contract of sale. Maintenance contract as per BAM guideline, price per maintenance on
request (as per BAM annually)

Note:
Please install into the extraction line a sample outlet valve!