Winco ZM 3 UE
products > universal mixer units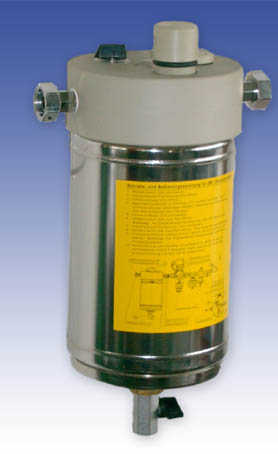 Winco ZMU series mixer units are connected to the mains water supply as follows:

a. By way of a system isolator (DIN 1988, part 4) or an EA 2 type pipe isolator
b. Alternatively by using a special Winco VNT 800 mains isolator kit (DIN 1988, part 4)

Regional differences in water supply regulations and the regulations followed should be checked.

The disinfectant concentrate is fed via permanent pipe work installations or hoses from the mixer unit to the point of use (e. g. dispenser taps, spray heads, special foot showers etc.). Because the mixer is not specific to any one type of disinfectant concentrate it is suitable for universal use.

Application areas: industry, swimming-pools, sport centres, sanatoria, saunas, wash rooms.


Concentrate:

The solution can be adjusted to suit most commercially available water miscible disinfectant
concentrates.
Separation of the
media:
The concentrate and the mains water supply are separated by a specially-formed chemically
resistant membrane.

Mixing rate:

variable setting 0.1 % to 3.0 %

Construction:

Robust, durable, easy to maintain and operate.

Automatically
shut-off

The unit will automatically shut off should if concentrate becomes empty.

D010110

Universal Mixer Units Winco ZM 3 UE
Operating principle: Winco mixer units operate on a different pressure system.

Output settings:
ZM 3 UE Concentrate level = variable setting from 0.1 % - 3.0 %.
Concentrate tank capacity: 3 liters.

Auto shut-off: the unit will switch itself off automatically should the concentrate tank become
empty, avoiding the risk of inadvertently using clean tap water for "disinfecting".

Operational Data:
Connectors: Inlet and outlet = R 1/2". Chrome-plated MS union nut
Water pressure: 8.0 bar max., 2.0 bar min.
Max. water temperature: 45° C
Max. working pressure: 8.0 bar
Flow rate: 1,000l/h at 4 bar

Separation of the media in the mixer unit by means of a special membrane made from EPDM
/ stainless steel, material 1.4301.

Dimensions Winco ZM 3 UE:
Height: approx. 350 mm
Width (outer sealing face): approx. 195 mm

D003373
Accessories:
System isolator, R ½"

D003341

Installation kit for ZM units (system isolator)

D003368

Pipe isolator conforming to DIN 1988 Part 4 EA 2, with pressure gauge and pressure surge
damper

D003340

Installation kit for ZM units (pipe isolator)

D008852

R ½" soil trap, chromed

D008859

diagonally seated shut-off valve with test valve, chromed

D003354-2

R ½" pressure reducer (essential requirement)

Terms of delivery: ex work, exclusive packing
Delivery period: approx. 2 weeks
Terms of payment: 14 days 2% discount, 30 days net

Commissioning and operator training should be carried out by LSK-Wintrich engineers.
Guarantee as per LSK-Wintrich general terms and conditions. Fitting and connection are not
included in the price of the product.

Note:
Please fit a sampling valve in the outlet line behind the mixer (e. g. item D010530 Disinfectant
solution outlet-valve R ½")!