Winco ZEL-12 (K)
products > electronically-controlled dispensing units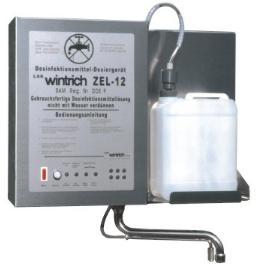 Fully electronic-controlled Winco ZEL 12 K for the automatic production of ready-to-use disinfectant and cleaning solutions using disinfectant concentrate and tap water (bucket filling).

Application areas:
hospitals, clinics, laundries, commercial kitchens, laboratories, industrial installations.

BAM certificate: DDE 9


Safeties:

The ZEL 12 K mixing and dispensing equipment includes the following safety features:
Pre-warning when the concentrate (disinfectant or cleaning concentrate) level is close to empty
. "Empty" signal and automatic cut-out when insufficient or in case of a pump fault
. Automatic cut-out if water supply is insufficient or in case of a pump fault

Checking the dosing
The dispense volume level is displayed visually by LED.

Operation:
. Open the cap
. Open the container of disinfectant concentrate
. Put he container in the concentrate container parking space
. Insert the suction tube into the container of concentrate
. Set the control to the required dispensing rate using the LCD indicator
. Close the cap
. Your Winco ZEL 12 K dispensing unit is now ready for use


D010226

Winco metering unit for automatic production of ready-to-use disinfectant and cleaning
solution type Winco ZEL 12 K

Output 12 l/minute, output pressure max. 6.0 bar, flow pressure min. 2.0 bar, adjustable
concentration level from 0.25 - 4.0% as per BAM directives for disinfectant automats and the
Federal Health Authorities as per BGL. 21. Volume 1979 no. 7 tested and examined BAM
licence no: DDE9.

Principal components

1. Stainless-steel base plate, material no 1.4301, connectors as per dimension sheet M 235

1.1 Housing barrel for 5 litre capacity, material no 1.4301

2. Impulse counter DN 20/25 as a special counter for proportional calculation of the water
flow

3. Metering unit as a reciprocating plunger type pump, consisting of disinfectant solution
resistant parts 230V, 50 Hz

4. All-electronic impulse emitter to monitor the dispensing pump operation

5. Electronic control within a plastic housing

5.1 On the switch housing is a step switch with an indicating dial to adjust the desired
disinfectant fluid concentration level

5.2 Failsafe devices:

Automatic cut off of the equipment in the case of:
. Insufficient water supply
. Insufficient concentrate supply

5.3 Indicators warn of:
. Low concentrate level (about 10 %) yellow
. No concentrate red
. Insufficient water supply red
. Pump fault red

6. Plastic suction tube (PVC) with probes to detect the concentration level of the delivered
barrel

7. Swivelling tap, chrome-plated brass, R ½", with external preparation channel, as per DIN
1988 licensed

8. Stainless-steel covering cap, operation and service manual

9. Dimensions: L x W x H = 565 x 175 x 425 mm
Weight: approx. 17 kg dry
Connections:
Cold water: thread connection
230 V, 50 Hz, 6 A

10. Power: 110 Watt

First filling: (not part of delivery)

Delivery terms: ex works, exc. packing and insurance
Delivery period: 2 weeks approx

D900010

Installation and operator training is carried out by LSK-Wintrich staff. The guarantee period is
controlled by legal regulations. Equipment is supplied in accordance with the general terms
and conditions of LSK-Wintrich. Assembly, connection and filling are not included in our
contract of sale. Maintenance contract as per BAM guideline; maintenance minimum biyearly.