Mixer units ZM 3 UE with pipe isolations VNT 800
products > pipe isolations as per DIN 1988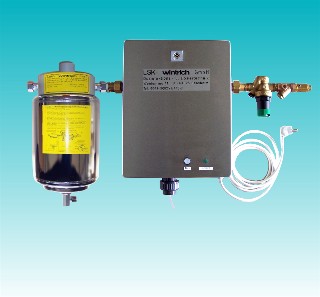 Winco mixer units for the automatic mixing and dispensing of a ready-to-use disinfectant,
using disinfectant concentrate and tap water.

Important information:
DIN 1988, part 4 from December 1988 "technical norms for drinking water
installations (TRWI), class disinfectant solutions into category 4.

Units of category 4 have to have safety lugs for the cover of drinking water:
here it is a mains isolator with a pipe isolation as assembly of type 2.

To be set in: industry, swimming-pools, sport facilities, saunas, and laundries.



Mixing rate:

variable setting from 0.1% to 3.0%

Safeties:

- cover of the drinking water by pipe isolation
- shut-off should the concentrate box become empty
- separation of media between concentration and tap water by a specially formed
membrane of EPDM

Construction:

- water pressure 8.0 bar max. - 2.0 bar min.
- mixing rate: variable from 0.1% to 3.0%
- robust, easy to maintain and operate
- solution can be adjusted to suit most commercially available water miscible disinfectant
concentrates





D010110
Universal Mixer Units Winco ZM 3 UE

Operating principle: pressure system.

Output settings:
ZM 3 UE Concentrate level = variable setting from 0.1 % - 3.0 %

Concentrate tank capacity: 3 liters

Automatically shut-off: the unit will switch itself off should the concentrate tank become
empty, (avoiding the risk of inadvertently using clean tap water for "disinfecting").

Operational Data:

Connectors: Inlet and outlet = R 1/2". Chrome-plated MS union nut. Water pressure: 8.0 bar
max., 2.0 bar min., maximum water temperature: 45 °C max., flow rate: 1000l/h at 4 bar,
separation of the media in the mixer unit by means of a special membrane made from EPDM
and 1.4301 stainless steel.

Dimensions: Height approx. 350 mm; width (outer sealing face) approx. 210 mm.

Weight: 5 kg approx. (ZM 3 UE)

Important note:
As in DIN 1988, part 4, December 1988, safety combinations, back-flow-preventer, pipe
aeration, for disinfectant equipment are no more allowed. Therefore the pipe isolator EA 2
type Winco VNT 800 has been developed for you.

D010151

Pipe isolation to cover drinking water as per DIN 1988, part 4, "Technical Norms for Drinking
Water Installations" (TRWI) type Winco VNT 800

In general consisting of:
. Grounded stainless-steel box, material no. 1,4301 with a frontal opening door
. Pipe isolator electronically controlled on EA 2, DVGW license no 569
. Magnetic valve as a reserving valve, material no. MS 58
. On/off switch and signal lamp "Operation" green

Connectors:
Tap water inlet: R ½" outside threat
Tap water outlet: R ½" outside threat

Tickling water
Connector: R 1", plastic adhesive couple
ELT: 230V, 50 Hz, 3 x 1.5²
Dimension: 300 x 380 x 155 mm
Weight: approx. 11 kg (VNT 800)

Terms of delivery: ex work, exclusive packing

Delivery period: approx. 2 weeks

Terms of payment: 14 days 2% discount, 30 days net

D900010

Commissioning and operator training should be carried out by LSK-Wintrich engineers.
Guarantee as per LSK-Wintrich general terms and conditions. Fitting and connection are not
included in the price of the product. Maintenance contract as requested.

Note:
Please fit a sampling valve in the outlet line behind the mixer (e. g. item D010530, R ½",
chromed)!