Winco ZM 10 UEF
products > mobile disinfecant units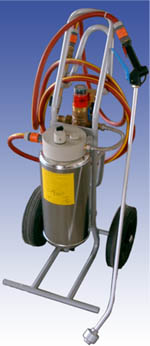 Winco mixer units are designed for the automatic mixing and dispensing of a ready-to-use disinfectant solution, using disinfectant concentrate and mains supply water.

The mobile Winco ZM 10 UEF is completely ready-to-use after refilling the disinfectant solution. It is connected via hose, max. 40 m, connected to the tap. With the mixer unit disinfectant solution, cleaning solution and e. g. trap-cleaner for truck traps can be sprayed.

Application areas:
swimming pools, sports centers, sanatoria, saunas and wash rooms.


Concentrate:
The solution can be adjusted to suit most commercially available water miscible disinfectant concentrates.

Separation of the media:
The concentrate and the mains water supply are separated by a specially-formed chemically resistant membrane.

Mixing rate:
Adjustable from 0.1 % - 3.0 %. Mixing per banking chamber system.

Construction:
Robust, durable, easy to maintain and operate.

Auto Shut-off:
The unit will switch off automatically should the concentrate tank become empty

D010140

Mobile Universal Mixer Unit Winco ZM 10 UEF

Operating principle:
Winco mixer units operate on a different pressure system.

Output settings:
ZM 10 UEF Concentrate level = variable setting
from 0.1 % to 3.0 %.

Concentrate tank capacity: 10 liters

Safety valve:
System isolator conforming to DIN 1988 Part 4, with pressure gauge and pressure surge
damper as an DVGW tested tapping (DVGW registration no 569E)

Auto shut-off:
The unit will switch off automatically should the concentrate tank become empty, avoiding the
risk of using clean tap water for "disinfecting" inadvertently.

Separation of the media / case:
By means of a special membrane made from EPDM and 1.4301 stainless steel.

Undercarriage is a tubular base frame with a holder, 2 wheels, bolt stilts and rubber caps.

D010510.05
D010510.10


D010410



D010420

Accessories (not part of delivery):
5 m hose for water-bearing hose to the unit
10 m hose for disinfectant solution-bearing hose, further lengths available if required


Small splash lance with lever valve, one cone 3 l/min, including coupling nipple, total length
approx. 600 mm

Alternatively:
Big splash lance, as before, with 7 cones, for room disinfection, including coupling nipple,
total length approx. 100

Operating data:
Water pressure: 8.0 bar max., 2.0 bar min.
Water temperature: 45°C max.
Flow rate: 1000 l/h at 4 bar
Dimensions: Height 1050 mm approx.

Weight: dry 18 kg approx

Terms of delivery: ex work, exclusive packing
Delivery period: 3 weeks approx.
Terms of payment: 14 days 2% discount, 30 days net


Commissioning and operator training should be carried out by LSK-Wintrich engineers.
Guarantee as per LSK-Wintrich general terms and conditions. Fitting and connection are not
included in the price of the product. The total guarantee period is controlled by legal
regulations.

Warranties as per LSK-Wintrich general terms and conditions. Montage, connection
installations and unit fillings are not part of shipment. Maintenance agreement as per
BAM-directive of 1978. Prices per maintenance on request